Monday Meditation Circle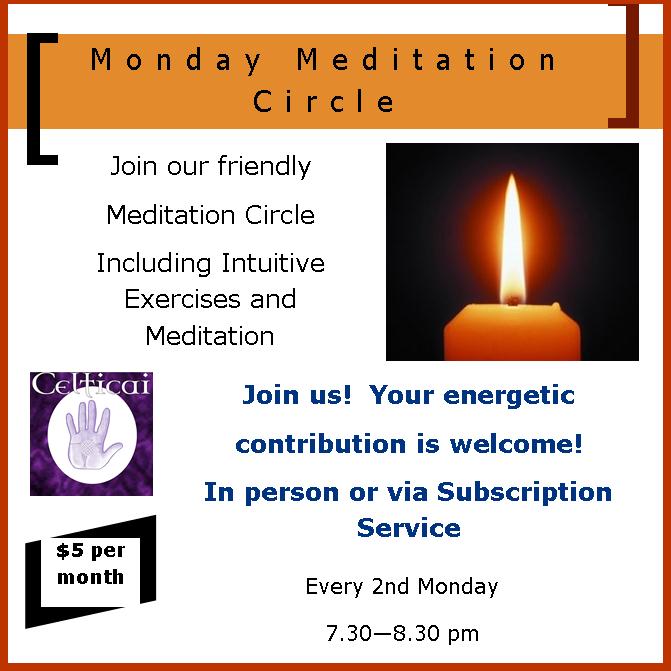 Stressed? Needing some ME time? Looking to progress on your spiritual path?
Join our Monday Meditation Circle
Every two weeks, we play intuitive games to enhance personal development and intuitive skills.
Caithe then chooses two cards from her Meditation Deck – one to represent the truth that we are meditating on and one to represent the 'how' of the meditation.
The meditation is then recorded as Caithe receives and speaks the meditation.
Listen to a previous recording from the Monday Meditation Circle
By subscribing, you receive an email every two weeks with the intuitive game played and a link to the recorded MP3.
All for only $5 per month!
You may choose to subscribe for a month,  6 months or a year.
No discounts are available for this service 90% of the subscription goes towards Celticai Studio's World Vision Child Sponsorship programs.
Meditation Circle Subscription
Need to find some inners-space for meditation? Looking to develop your intuition and awareness? The Monday Meditation Circle is an informal way to expand your knowing with ease and joy. Receive two emails per month containing intuitive games and a link to a meditation. Your subscription helps Celticai Studio support children across the world through World Vision Australia and Smith Family Organisation. Thank YOU.
$5.00 — $60.00
Let's summarise…
For only $5 per month, you receive
• An email containing intuitive games to enhance your psychic skills
• A link to a recorded meditation (approximately 15 mins in length)
Your Benefits –
• No need to leave the house, you can play your meditation anywhere and at any time.
• Time for YOU- to honour the spiritual being that you are
• You are supporting the children of the world that require clean water and education for a better future.
How does it get any better than that??
Please note that emails are sent on Tuesdays!