Gemini Full Moon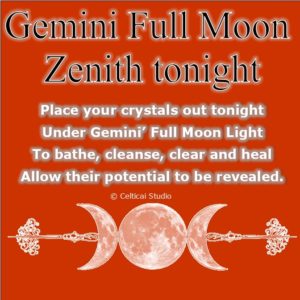 ━═★ Full Moon Blessings ★═━
The Full Moon in Gemini has its zenith on Monday 4th December 2017 at 1.26am (Brisbane Time).  It is referred to as a Super Moon as the moon is at its closest point to the Earth during its orbit.
Therefore, the energies will be magnified more than usual. Full Moons are energetically connected to the previous New Moon's goals, dreams and plans.  What did you put into motion two weeks ago?  This full moon brings an opportunity to harvest and/or heal what was sown.
━═★ What does that mean for you? ★═━
First and foremost, your two sides – the obvious and the hidden – will be trying to communicate with you.  As you are not only approaching the craziness of Christmas, you are also facing the Winter Solstice on December 21st and Mercury going retrograde on the same day as this Full Moon.  This equals intense communication between all parts of you – with each other, with those around you and with the energies of CHANGE.
Allow yourself to recognise the emotions, thoughts and experiences as they occur – they are just interesting.  You can dwell and 'swell' with your experience or you can let go and ride the flow.
Gemini energy can be topsy turvey and of 'two minds'.  The energies at this time are working at a soul level – reminding you of issues that you have pushed to the background.  You may find yourself contemplating (okay, more like being smacked in the face with a frying pan type of contemplation) with sudden and interesting changes – all to do with communication or a lack thereof!
In particular, I feel that this Full Moon targets your skills, abilities, reputation, character and PURPOSE.  It is ideal for reviewing the year that has been – what has worked, what hasn't and what requires more focus.  Take time to thank those who have contributed to your year – both small and large energetic contributions.  It's time to review, redesign, overhaul, strategize and implement!
Note: those emotions, thoughts and experiences that arise are your body's way of trying to say: please, can we balance and karmically heal this?
Trying to find time for some form of relaxation, connecting with friends and family, or finally starting that journaling you've always said you would do, would be ideal activities.
━═★ Appropriate Cleansing Ceremony/Ritual ★═━
Gemini Full Moon energy is perfect for a moonlight ritual as Gemini is an Air Sign.
In preparation for your Moon Ritual, you will need:
A candle – white, yellow, silver, pale grey, red, blue or orange
Incense/essential oil – bergamot, lavender or just use what you have/appeals
Journal /paper and pen
Place the candle, incense, journal and pen on a table or bench or shelf.
Light the candle and incense.  Anoint yourself with the essential oil.
If possible, stand outside under the Full Moon or imagine that the moonlight is cascading over you.
You may wish to affirm to yourself: I make my choices decisively.  I flow with Divine Timing.
Stay in the moonlight for as long as you feel led.  Feel the breeze. Hear the sounds.
Once you have finished bathing, go to your journal and pen.
Gemini energy asks you to focus and be clear while seeing both sides of the story.  You may like to try automatic writing at this Full Moon; calling on your Guides to direct your pen as you 'free-flow write'.  Alternatively, you may like to review your goals for communication for the next month – people to contact, Christmas cards to write, advertising for your business, groups to be involved within.
Ground your energy when you are ready.  Blow out the candle; extinguish the incense if necessary.  Namaste
━═★ What can you do to align with this energy? ★═━
Service your car.
Carry a Gemini crystal
Plan a trip or meditate with a location you wish to visit.
Write out birthday cards or any type of correspondence needing to be sent.
Begin the novel/article/journal you always wanted to start or plan a workshop to teach.
Expand your technological skills e.g. graphic design, Photoshop, Facebook, etc.
Smudge your house to clear the air.
Minimise distractions; compile or review a to–do list.
Collect your unwanted books and take them to a second hand 'swap' shop or hold a garage sale.
━═★ Gemini Full Moon Inspiration ★═━
Walk under the Gemini Full Moon with gentleness
May all your plans be stress–less
Fill each moment with thankfulness
This is a life of consciousness!
━═★ Suitable Crystals for Gridding ★═━
If you are gridding, suitable crystals to work with this Gemini Full Moon include: diamond, jade, agate, topaz, tourmaline, aquamarine, apophyllite, blue sapphire, Citrine, celestite, chrysocolla, emerald, serpentine, tanzanite, tiger's eye, variscite, ulexite, arfvedsonite, onyx, jasper, carnelians, chrysoprase, flint.
━═★ Gemini Full Moon Magick ★═━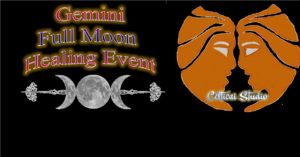 When the Moon is in Gemini, you may notice everything and everyone is easily distracted.  This applies to you too!  It is a time when the superficial seems stable.  Any conclusions, judgements or computations are subject to quicksilver changes and a lack of clarity.   Gemini Moon energy enhances the range of possibilities and allows you to see 'both sides' at one time.
A perfect time to buy or bless any magickal tools involving besoms, athames or other objects you associate with Air.
A Gemini Full Moon is beneficial for magick concerning:
Enhancing your reputation (especially using the internet)
Focus and divination
Sending/receiving messages; generating ideas; creating solutions
Increasing energy for communication, new ideas and learning
Contacting people or spiritual energies (especially the Techno Fae)
Travel
Gathering scattered pieces into a whole.
━═★ Gemini Full Moon Healing Event ★═━
This healing list is FREE for any and all who wish to receive Reiki over the 72 hours commencing 3rd November 2018.
A full moon reveals to you the imbalances requiring your attention so that it has the opportunity to balance before the next new moon.  The grid will be set for 72 hours, the energies of the grid will continually flow over that time… so harness it and use it!
To receive of these energies, all you need to do is comment with your name and a statement such as: "I am willing to receive the balancing energy I require for benefitting my life and my living."
To join the free healing event, visit the event HERE: https://www.facebook.com/events/1765501790412982/
┊┊┊┊
┊┊┊☆
┊┊ <3 ~ Caithe •* <3  *•♫
┊εїз
Celticai Studio & Wiccan Walk in Oz