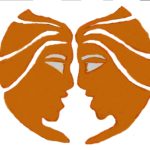 ━═★New Moon Blessings ★═━
The New Moon in Gemini occurs on 26th May, 2017 (with its zenith at 5.44am, Brisbane Time).  Although New Moon energy is focused during the following four weeks of its zenith, the intensity of the New Moon will be felt from the day before the zenith till the day after the zenith  Therefore, the energies will be magnified more than usual.
A new moon represents the end of one cycle and the beginning of a new 28-day cycle. The spiritual connection focus of this New Moon gives you an opportunity to spend time and/or renewing your beliefs and your relationship with the Divine.
Those who have Gemini, Virgo, Sagittarius, and Pisces in their natal charts, will feel this New Moon significantly.
━═★ What does that mean for you? ★═━
During the following four weeks influenced by this Gemini New Moon cycle, communication, travel, goals/ambition and dreams will be highlighted.  How this manifests for you may be subtle or may be an 'in your face/are you taking notice of this' situation.
This energy reminds me of the song by Pseudo Echo: "Are you listening?"  Notice during this energetic cycle how people and especially how you communicate.  There will be lots of sprouting off and shouting during this time.  Rather than allowing this to upset your applecart, endeavour to understand the motivation or intention behind each communication.  For yourself, try to be non-threatening, friendly and a good listener.
During this time, answers may be 'just out of reach' or you may also realise that there is no 'one' answer.. rather there are many roads which lead to Rome.
You may also notice that one minute, you are all Indiana Jones ready to take on the world with just a cocky hat and a whip.  Next minute, you wish to withdraw from your goals because they are too hard/slow/unattainable.  Try not to throw the baby out with the bathwater, during this cycle.  Give yourself time to BREATHE.. after all, Gemini is an Air sign!
━═★ Ritual/Healing Suggestions ★═━
Some everyday activities which you can use to honour/meditate with this energy.
Service your car.
Carry a crystal
Plan a trip or meditate with a location you wish to visit.
Write out birthday cards or any type of correspondence needing to be sent.
Begin the novel/article/journal you always wanted to start or plan a workshop to teach.
Expand your technological skills e.g. graphic design, Photoshop, Facebook, etc.
Smudge your house to clear the air.
Minimise distractions; compile or review a to–do list.
Collect your unwanted books and take them to a second hand 'swap' shop or hold a garage sale.
Meditate and focus on your breath work. (Gemini is an Air Sign!)
Review/update your marketing schedule or time management.
━═★ Gemini Moon of Dreaming ★═━
With the energy of this Gemini New Moon
I release the blockages holding me back
I seek the confidence for a new start
Balance soul, spirit, mind, body and heart
As the Moon grows, please keep me on track
As above, so below, let it harm no, please make it so.
━═★ Suitable Crystals for Gridding ★═━
If you are gridding, suitable crystals to work with this Full Moon include: Diamond, jade, agate, topaz, tourmaline, aquamarine, apophyllite, blue sapphire, Citrine, celestite, chrysocolla, emerald, serpentine, tanzanite, tiger's eye, variscite, ulexite, arfvedsonite, onyx, jasper, carnelians, Chrysoprase, flint.
━═★ Gemini New Moon Magick ★═━
When the Moon is in Gemini, you may notice everything and everyone is easily distracted.  This applies to you too!  It is a time when the superficial seems stable.  Any conclusions, judgements or computations are subject to quicksilver changes and a lack of clarity.   Gemini Moon energy enhances the range of possibilities and allows you to see 'both sides' at one time.
A perfect time to buy or bless any magickal tools involving besoms, athames or other objects you associate with Air.
A Gemini New Moon is beneficial for magick concerning:
Communication with other realms and your Higher Self
Clearing the air i.e. misunderstandings
Developing workshops, book outlines, presentations, marketing plans
Brainstorming and divergent thinking
Expanding your sphere of influence or network
New insight into the Mysteries
Banishing or releasing through the Element of Air.
━═★ New Moon Healing Event ★═━
This healing list is FREE for any and all who wish to receive Reiki over the 72 hours commencing on 25th May, 2017.
The grid will be set for 72 hours, yet the energies of the grid will continually flow for 28 days… so harness it and use it!
To receive of these energies, all you need to do is comment with your name and a statement such as: "I am willing to receive the balancing energy I require for benefitting my life and my living."
To join the free New Moon Healing Event, visit the event HERE.
May the New Moon's blessings be yours
Make a magickal day!
┊┊┊┊
┊┊┊☆
┊┊ <3 ~ Caithe •* <3  *•♫
┊εїз
Celticai Studio & Wiccan Walk in Oz