A weekend of Spiritual connection, light and laughter.
~ Revitalise and Relax at the Light, Laughter and Learning Retreat ~
23rd-25th November, 2018
Your Retreat Experience is wonderful value for only $400.
Book your place, make payments and read our policies HERE. 
A fun and informative weekend where you have the opportunity to rest, re-charge and rejuvenate your mind, body and soul.
Our retreat is fully catered and accommodated through dormitory style accommodation (twin-share).
All funshops (some people call them 'workshops', we think they are FUN), meditations and group activities are included in the booking fee.
Book early to avoid missing out on this empowering retreat.  We only have 30 spaces available and places are booking fast.
The Program   – will be updated soon!
"All sessions were very enjoyable! Food excellent! The presenters were enthusiastic and made everyone feel welcome. A wonderful and affordable weekend." June, Bundaberg.
Why attend?
Do you wish to:
• De-stress and take time out for yourself?
• Reconnect with nature?
• Be surrounded by and meet with like-minded people?
• Reawaken and connect with your true self to clarify your focus?
• Experience Source Love, light and laughter?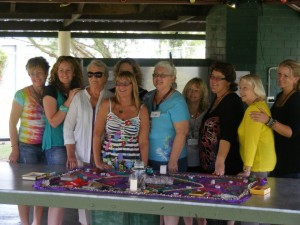 Take time out for yourself – Expand your spiritual connection.
During the weekend, opportunities are available to book private sessions with your Lorcai Retreat Facilitators. These sessions incur extra costs and should be booked through your Registration Confirmation (which will be sent out late October 2018).
Spaces are limited so book early!
Caithe – Palmistry -$30 for 30 minutes
Phie – Journey Healing – $30 for 30 minutes
Lorrae – Tarot Readings $15 for 15 minutes
Rebecca – Reiki – $30 for 30 minutes
 For More Information
The Program  – will be updated soon!
To discuss your booking or to make an enquiry, please use the contact form HERE.