This week, during our Meditation Circle….
Psy IQ topic – Animal Totems
Crystal – Malachite
Tarot Card – Queen of Cups
Animal Totems
Animal totems aid in self-discovery, self-expression, and awareness. Webster's Dictionary defines a totem as: "A natural object, usually an animal that serves as a distinctive, often venerated emblem or symbol. A means of personal or spiritual identity."  Animals demonstrate personality traits we, as humans, all aspire to achieve.  Animals are some of the most powerful symbols in our spiritual toolbox. By focusing on the attributes of our totems, we internalize these traits and thus begin to externalize the very character we absorb from our totems.
Keep your eyes and ears open this week.  What animals make themselves known to you?
Crystal Connections – This week's crystal is Malachite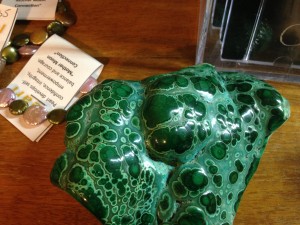 Malachite, a stone of transformation, speaks directly to the heart. Its beautiful green opaque colour speaks of strength and power demanding respect, mesmerizing the viewer. The movement, flow and energy in its lines, circles and designs soothe and welcome. The name Malachite may come from the Greek word malakee, or malache, signifying the resemblance of Mallow leaves, or from the Greek word malakos, meaning soft.
The 'eyes' of Malachite are said to develop intuitive abilities.  Interestingly, it is believed that if your piece of malachite breaks, it is warning you of impending changes and danger.
I personally use Malachite to help soak up and transform radiation from technological devices.  Have a piece near your computer, microwave, phone and in your handbag for your mobile/iPad/tablet.
Keywords: ♥ soothing ♥ absorbent ♥ transformation
"Translate, transmute and transform – malachite soothe the storm."
The Crystal Connections' Crystal Cards state malachite is beneficial for:
Protective and clears chakras; absorbs pollutants
Alleviates mental tension and overactive brain activity
Releases old traumas
Supports loving friendships
Supports alleviating asthma, arthritis, epilepsy, vertigo, diabetic, vision, liver
Enhances immune system.
Tarot Talk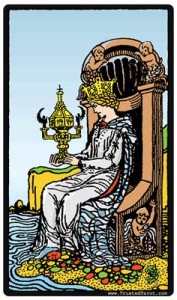 Our tarot card is one of the Court Cards from the Cups Suit – the Queen of Cups.  All the Cup cards represent the element of WATER.  This is your emotional flow ~ love, empathy, compassion ~ are you engaged or entangled?
When you see a Court Card, ask yourself: Who do I think of when I look into the card? Is it a part of me or someone around me?
Symbols, Signs and Signifcances within the Card
The chalice is a ciborium which holds the Essence of Life. The handles of the chalice are Angels.  They guard the chalice and symbolise the Queen's spiritual connection. The closed cup symbolises her thoughts rising from the unconscious. Her stone throne and the rocks at her feet symbolise reliability. The throne is decorated with images of sea nymphs, fish and shells symbolising the subconscious, spirit and creativity. The calm sea symbolises her emotions. The cloudless sky symbolises her clear path of thought. The Queen sits close to the water symbolising her emotional connection.
At first glance, the chalice reminded me of a monkey which leads me to thinking of those people that I mimic.  Are they worthy role models for me to be watching?  The cliff face that can be seen in the background reminds me that developing our intuition and using it within our everyday living requires a leap of faith.
Keywords:  spiritual ♥ artistic ♥ mysterious
Key Questions to ask for a Reading for Yourself
Am I combining fact and instinct right now?
How am I viewing love right now?
What is sacred to me and how can I protect it?
Meditation with Caithe
Meditation is designed to increase your focus and your ability to expand your awareness.  In today's modern world, we are encouraged to be BUSY.  This isn't conducive to meditation!  In our meditation circle, you are encouraged to meditate for only a short period through active visualisation provided by Caithe.  If you are distracted, bring yourself back to the task by focussing on your breath.  Whether you meditate for 15 minutes or 1 minute, your body will thank you for the peace!
You can listen to the meditation, Malachite Meditation – Colouring Your World, HERE on my Youtube Channel.
A Reading a day develops intuition in a superior way!
Use your journal for recording your readings.  For this activity, select a deck and clear it.  Ask: May I, Can I, Should I?  This seeks permission to complete the task. Finally, it confirms whether you have the skill level to read at THIS moment for your PURPOSE.  Look at your card – what symbols and signs 'jump out' at you?  What do they mean to you?  Write your observations down to read and reflect on again at a later date.
 Next Meditation Circle: 10th May 2016. Midday.
 In closing:
We thank all the positive energies and entities for providing guidance and insight today.  We thank each of you for this opportunity to spend time with like-minded people in a space of honour and light.  Whenever you are in that place in me, and I am in that place in me, we are One. Namaste
Listen to Caithe's weekly FREE broadcast: www.mixlr.com/the-celtic-mystic/showreel/