Acknowledgement of Country
Today we stand in footsteps millennia old.
May we acknowledge the traditional owners whose cultures and customs have nurtured, and continue to nurture, this land, since men and women awoke from the great dream.
We honour the presence of these ancestors who reside in the imagination of this land and whose irrepressible spirituality flows through all creation.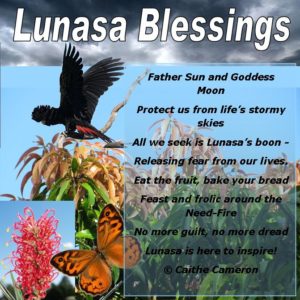 A poem by Jonathan Hill (Hill, 2013)
It's time for the Wheel to turn once again.  The Wheel of Time is a Celtic Calendar describing the cycles of life within the world around us.  For those of us in the Southern Hemisphere, especially for myself in South-East Queensland, Lunasa doesn't feel particularly like it's preparing for Autumn.
Instead, Lunasa is about searing heat and high humidity where both animals and people are seeking cooling comfort where they can.  Traditionally celebrated on the 1st or 2nd February in the Southern Hemisphere, it coincides with the hottest period of the year and Australia Day celebrations.  For many Australians, therefore, Lunasa coincides with the excitement of a new school year, beach parties, barbeques and watching copious amounts of cricket and tennis (either on the field or on the television). Of course, at this present time, there are cyclones building off the Queensland coast bringing windy weather and rainfall to many.  Interestingly, due to the storms, we often experience power outages – making the harvest concept rather symbolic and also the need for us to get candles out!
I feel Lunasa is a time of planning and assessment, a time of thanks for what has occurred in the previous year; a time to dismiss fear/guilt/regret from your life; a time to solidify relationships and to let go of old ones (especially divorce) and to honour Mother Earth for the bounty of her harvest.
Traditionally, Lunasa is associated with the harvesting of cereals and first fruits.  The colours of orange, gold, red and yellow are associations made with the season too.  For us Aussies, Lunasa is the season of storms and bushfires.  Both provide regeneration and new growth where once there was desolation.
In my own garden, the Mango trees have finished fruiting and new growth is shooting forth.  This new growth is green, gold, red, orange and yellow.  Nice matching to the traditional colours!  The Queen Mum Agapanthus will flower during February.  This particular flower was called "Aggie-put-your-pants-on" by my Father and Grandmother.  It reminds me this season is about putting on the big girl panties and getting 'stuck into life' by being grateful for all the blessings in my life through change and transformation.
In Aboriginal stories, the storms and lightning were produced by a male gecko or by Marmagan.  The story of the male gecko tells he ate the grasses near the sacred swamp, drank the water and then spat the combined mixture into the sky to make rainclouds.  The thunder was his appreciation for the rain to come.  Similarly, Marmagan rides the clouds and throws lightning bolts.  By rubbing two stones together he created rain.
I find the symbolism as this being a time of harvesting (reaping what you sow) in both the Celtic and Aboriginal traditions.  In Celtic times, Lunasa was a time of judgement using a Brehon Stone – a circular stone with a hole in the middle.  Lawbreakers were judged before it.  In the Aboriginal stories, cyclones were seen as being judgements for disturbing the balance of Sacred places.
Although I am not Aboriginal through blood, I find their stories and connection with this Sunburnt Country of ours totally fascinating.  Their ability to sing the story (songlines) to travel along trade routes or find sacred places demonstrates their powerful connection with the Land.  During Lunasa, Dorothea Mackellar's "My Country" speaks to me of the wonder and terror of our land's cycles.
In your backyard, look to the ants for signs of coming rain.  Or perhaps, look for the Black Cockatoo flying from the mountains to the coast. As a totem of Rain and Joy, Black Cockatoo is a favourite bushcraft weather indicator.  You may also find Goannas are on the move – seeking out the newly laid nests of lizards in the warm soil.  Lastly, look for the Common Brown Butterfly – the females are about to come out of hibernation and begin to lay their eggs.
You may also hear the Kookaburra at dawn – staking their claims on their territory before mating.  An old bush tale also states:
If the Kookaburra laughs between 10 and Two
A weather change is coming through!
Lunasa's "Goddess as Mother" energy is elegant in its dimension, strong in its power and regenerative in its care and nourishment.  How can YOU give back to Mother Earth today?
Merry Meet and Namaste
Father Sky and Goddess Moon
Protect us from life's stormy skies
All we seek is Lunasa's boon –
Releasing fear from our lives.
Eat the fruit, bake your bread
Feast and frolic around the Need-Fire
No more guilt, no more dread
Lunasa is here to inspire!
© Caithe Cameron, Celticai Studio. 2013.
Caithe broadcasts on Reflect Radio with the Wheel of Time program – follow this link to listen to her speak about the season of Lunasa and meditate with Mother Earth.  Listen HERE.
http://www.blogtalkradio.com/reflectradio/2014/01/29/pagan-path–imbolc-and-lunasa-with-leonore-and-caithe#.UuhqxRstJg0.facebook
References
Hill, J. (2013, July 30). Welcome to Country & Acknowledgement of Country. Retrieved December 9, 2013, from Creative Spirits: http://www.creativespirits.info/aboriginalculture/spirituality/welcome-to-country-acknowledgement-of-country
Major, R. & Cameron, C. (TBA) A Wiccan's Walk in Oz. Celticai Publishing through Smashwords – currently in draft form.
Szirom, T. Dr. (2011) Seasons of the Goddess. Perspectives from the Southern Hemisphere.  Kew East: Gaia's Garden