Adventure into Ascension – Group Healing Message – July 24
Namaste and Welcome!  This Group Healing message is a part of the Adventure into Ascension Subscription Service provided by the Celtic Mystic, Caithe Cameron, from Celticai Studio.  The energies and information are here to assist you with your daily healing journey.  Caithe facilitates this energy each day for those who wish to receive.
The intention:  We are surrounded by the light, enfolded by love, protected by power and watched over by Source. Wherever we are, Source is.  What would it take for you to receive this healing and clearing energy with total ease, joy and fun?  Everything stopping you from healing and clearing, would you please choose to Reveal? Release? Revitalise.  (deep breath)  Namaste.
What song did Spirit give me to acknowledge the energetic influences?  It's a mash-up! They're always my favourite – it's fun, it's frivolous and yet, there's an intensity to the energy provided a lot of interest.  Listen to both songs on YouTube:
Bang-a-Boomerang by ABBA –
http://www.youtube.com/watch?v=XLkRpUycP9U
AND
POP! Goes My Heart from the Movie – Music and Lyrics – http://www.youtube.com/watch?v=xVkU8dDSC9w
Here's the mash-up
Something in the way you move I can't deny
Every word from your lips is a lullaby
A twist of fate makes life worthwhile
You are gold and silver
Like  bang – a – boom – a – boomerang
Dum – de – dum – dum, de – dum – de – dum – dum
Oh bang – a – boom – a – boomerang
Love is a tune you hum – de – hum – hum
By giving away, I think you'll learn
You'll get love in return
So bang – a – boom – a – boomerang is love
A boom – a – boomerang is love
I'm drawn to the onomatopoeia within both songs(a big word for the day – meaning the word makes the actual sound it represents) : Pop and Bang
I'm taken to the heart chakra, of course. There's a feeling of bubbles (why, oh why, am I seeing a Choc Mint Aero Bar?).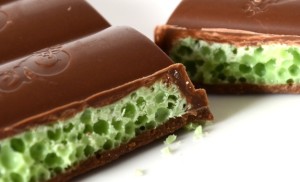 These little green bubbles are coming from the heart chakra representing an energy leakage giving our own power away.  Who's making the froth, the toil, the trouble – every little bubble?  Yup, you are. Sorry guys, but it's your creation.  Let's turn froth into frivolity!
*Random image of the witches from Shakespeare's Macbeth – Bubble, Bubble, Toil and Trouble*
Very interesting – we create the potion, the reality, the situation. This doesn't mean we have to drink it too!
This week ahead feels to be filled with revelations, lightbulb moments and epiphanies.  I wish I could guarantee the appearance of the Holy Trinity in physical form in your living room (whether this be a God or Goddess Aspect or even Trinity, Morpheus and Neo from the Matrix).  Instead, I do feel this is a physical recognition, a lightening of the heart and a releasing of burden.  We all need lightening! Yes?
There are a few clearings required here.. so let's get into them.
What words am I choosing to bring forth loosening that instead, bring me heaviness and burdens?
What would it take to remove all the lulling, lurking and lethargic energy across all realities, spaces, dimensions, times and incantations ?  Reveal. (deep breath). Release. (outward breath). Revitalise.
Can you feel that heaviness on that question?  Let's clear it. Repeat it until you feel a lightness within you.
Everywhere you've chosen to be a beast of burden, would you choose to release the beastly burden and be FREE?  Reveal. (deep breath). Release. (outward breath). Revitalise.
Repeat it until you feel lightness within you.
Yowsers.  This energy is explosive!  It's removing thoughts, emotions and attitudes keeping you in a state of control.  Almost as if you're over-medicated, drowsy and shouldn't be operating heavy machinery!
None of that, I say!  *insert Master of the Universe theme music*  Let's POP those perceptions, BANG those bastardised implants and step into our own power as Self-Loving Magnificent creatures of SENTIENCE.
Brolin is doing his best 80s impersonation here – trying to be like Hugh Grant on the keyboard.  *bom chicka wow wow*
Everywhere you've chosen to remain SILENT, unshaken, serious and stoic, what would it take for you to love the loosening of who you truly be?  Reveal. (deep breath). Release. (outward breath). Revitalise.
YAY!  We did it! Can you feel the lightness of being coursing through you?  Of course, I cannot type out the Spirit Speak I use to facilitate the energy flow, but you may choose to repeat the clearing questions three times each and give yourself the opportunity to sit still for three minutes.  Just RECEIVE. (and everything that doesn't allow that – Reveal. Release. Revitalise.)
Drink some water, ground your energy but remember the lightness of being.  This is your true state – any other heaviness is a lie to your truth.  POP BANG CRACKLE SNAP
Namaste.
Learn more about the Individual Messages for the Adventure into Ascension –
[catalog-product id="1784″]