At morning song, before the day's noise and haste
Source Connection I seek to embrace;
While sitting on my garden seat,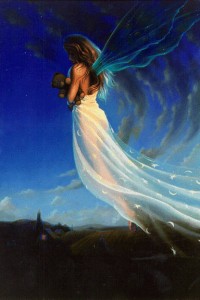 Gaia connects through my feet.
Warmth and love upwards swirl
Chakras spin in balanced twirl
White light of protective divinity
Envelopes, nurtures and supports me
And in the corner of my 'sight' ~
Translucent veils of pranic light
Heralds the dance of source energy
And the appearance of my Garden gentry
Welcome Earth! Air! Water! Fire!
Colours of Ruby, Emerald, Sapphire!
A time to dance and to reclaim
Season's cycle of Samhain.
Elementals frolic in celebration
Raising the energetic vibration
Each fluttering wing, as the Fey sing
Encourages spiritual blossoming.
The otherworldly musical rainbow
Manifests spiritual crescendo
Body, Spirit, Heart and Mind
Blessed, balanced and aligned.
© Caithe Cameron, Celticai Studio; 7th April 2011