Seasonal Specials
These specials are only available until March 31, 2013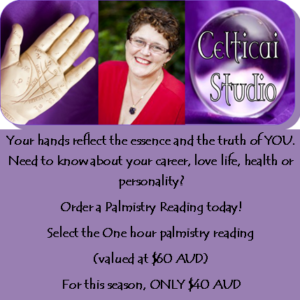 Scroll down and select 60 minutes to receive the saving!
Palmistry Reading
Palmistry Readings - choose your reading according to your budget! Only $1.00 AUD per minute. Place your request and discover what lies within YOUR hands. This reading is available remotely or in-Studio. Please provide one or two specific questions for Caithe to address during the reading.
$15.00 — $90.00
Palmistry consultations are $1.00 AUD per minute.  In the menu above, choose the time frame you desire.
Remote Sessions: A clear photograph or scan is required of the dominant hand (the one you use for eating and writing).
 An email will be sent to organise a time to talk on Skype or I am able to record the reading on an Mp3.
This recording is shared via secure online sharing resource (Dropbox).
In-Studio Sessions: Once a reading is booked, we will then organise a mutually convenient time for us to meet at Celticai Studio and commence with the reading.
Please bring a recording device to record your reading (mobile phones are great!).