Book the Clan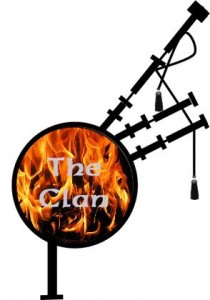 The Clan comprises 6 Bagpipers and 6 Percussionists.
We are available for Ceilidhs, Parties, Weddings, Funerals, and all types of Events that like their music LOUD!
(That's right, Bagpipes aren't able to be turned down in volume! *laughing*)
There are a few options available…
Wanting a solo Bagpiper or Small Pipes player?
Base rate is $100 for 20-30 minutes.
Extra fees will be applicable depending on distance to be travelled and the length of time the Piper plays.
Wanting the Clan at your next event?
Minimum Fee – $350 for 3 x 20 minute sets.
Extended performances are available – please contact us to negotiate!
Official Charity Events and Organisations
Please contact us to discuss the possibilities!