Bunk style accommodation in three dormitories – twinshare.
Modern communal amenities in each dormitory.
Spacious dining hall with professional catering from a large commercial kitchen.
Large rotunda with BBQ and outdoor seating with sweeping views.
Shaded swimming pool.
Tennis courts including basketball and volleyball facilities
Esteem course in a natural setting.
Open air chapel.
Astronomical observatory with television link.
Spacious meeting hall for meetings or social events including a lectern, whiteboards and audio visual equipment.
Smoking is permitted in designated outside smoking-friendly areas.
You'll be pampered with meditations, funshops and the opportunity to connect with your Lorcai Facilitators in one-on-one sessions.  You are free, at any time, to choose to withdraw and 'zen' out with the beautiful, peaceful countryside.
Meals
Prepared by professional camp staff, we guarantee that you will not go hungry!  Special dietary requirements must be outlined before 10th November, 2017.  As the menu is a set menu – please ensure you fill out this section in the registration booking sheet.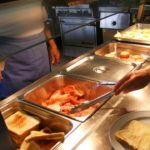 Mobile and Phone
There is no mobile reception at the Camp.  To get mobile reception, one needs to drive approximately 19 km to Linville.